However, when you fail to properly remove your iCloud ID after a factory reset, or when you bought a 2nd hand iPhone, you might be likely to face iCloud lock. And this is also when you need external tools like iN-Box V4.8.0 iPhone iCloud Remover to help you remove the lock. Download iCloud Bypass and Removal Tool - Free Unlock/ByPass iCloud for iPhone 6 Plus / 6 / 5s / 5c / 5 / 4s / 4 and iPad up to iOS 8.4 Beta. Here are the main features of Apple iPhone Unlock:. Tech experts remove iCloud activation lock within 24 hours remotely. Support various models of iPhone, iPad, and Apple Watch. The iPhone's IMEI or Serial information is necessary for this iCloud hacker tool to bypass the iCloud lock. The iPhone data will be saved during the removal process.
You purchase a second-hand iPhone only to discover that the device is locked with the previous owner's iCloud account. Of course, you can contact the previous owner and ask him/her to remove the Activation Lock remotely. But what if you can't reach the previous owner? Don't worry. You can still rely on third-party iCloud unlock tool to bypass iCloud Activation Lock from iPhone or iPad.
In this article, we will take a look at the 8 best iCloud removal tools in 2021, with their Pros and Cons. Browse through this list and choose your favorite one to remove iCloud Activation Lock.
1. Professional iCloud Removal Tool - FoneGeek iPhone Unlocker
If you are searching for a reliable tool to bypass iCloud Activation Lock, you should not miss FoneGeek iPhone Passcode Unlocker. This software can help you completely remove iCloud account without knowing the password, then you'll be able to create a new iCloud account to enjoy all services and features of your iPhone. This iCloud bypass tool is very easy to use, unlocking the Apple ID in just minutes and ensures high success rate.
Pros:
Effectively remove Apple ID or iCloud account on iOS device without password.
Instantly remove all kinds of lock screen from iPhone, iPad or iPod touch, including 4/6-digit password, Touch ID and Face ID.
No technical skills required to use this iCloud activation lock removal tool, making it ideal even for the beginner.
This software is trusted by many famous technology websites, such as CNET, Software.Informer, Filehorse, JustWebWorld, iGeekPhone, etc.
Fully compatible with all iOS devices including the latest iPhone 12 Pro, iPhone 12 Pro Max, iPhone 12 mini, iPhone 12, etc.
Cons:
It can only unlock Apple ID/iCloud account on activated iPhone or iPad.
It can only work to bypass iCloud lock on iOS devices running iOS 11.4 or earlier versions.
Here's how to bypass iCloud Activation Lock using FoneGeek iPhone Passcode Unlocker:
Step 1: Download and install FoneGeek iCloud bypass tool on to your computer, launch the program and choose the 'Unlock Apple ID' mode in the main window.
Step 2: Connect your iPhone to the computer using USB cable, unlock the device's screen and tap 'Trust' on it.
Step 3: Now click 'Start Unlock' to begin bypassing the iCloud lock on your iPhone. Keep the device connected until the process is complete. When the unlocking process is done, you can log into another Apple ID or create a new one.
FoneGeek iPhone Passcode Unlocker has been downloaded and reviewed by our users who have purchased the registration code to activate the full service.
2. Free iCloud Activation Lock Removal Tool - iCloudin
iCloudin is a free iCloud Activation Lock removal tool that can be quite useful for this purpose. It is easy to use and compatible with all iOS device even the latest iOS 14.6, not to mention that it provides a lot of tutorials to help us using it.
Pros:
It is free to use and has a very simple and interactive user interface.
It provides tutorials to help you bypass iCloud Activation Lock.
It supports all iOS devices, including iPhone 12/11/XS/XR/X/8/7/6s etc.
Cons:
It is a fairly new tool and there are few reviews to speak to its effectiveness.
The website hasn't been updated for a long time.
3. Fast Online IMEI-based Unlocking - DoctorUnlocker.net
DoctorUnlock is an iCloud Activation Lock removal online service that allows users to easily unlock iCloud without having to install any software on their computer. It is highly effective with a high success rate and glowing reviews from users.
Pros:
You don't have to install any software on your computer.
It is very easy to use and extremely efficient.
It has numerous glowing reviews from users.
Cons:
You'll have to pay $19.95 or more to use the service.
The most serious problem to unlock iCloud online is data leakage. The sensitive information on your iPhone may be visible to others after using this kind of online tools.
Most online tools unlock iCloud via brute force, thus resulting in damage of your iPhone data.
4. iCloud Unlock Service - Doulci iCloud Unlocking Tool
Doulci iCloud Unlocking tool is another simple and efficient tool that you can use to bypass iCloud lock on any iOS device, even an iPod Touch. It is not however a UI tool and works by allowing users to run their own iCloud bypass server.
Pros:
It is very easy to use, allowing you to easily bypass iCloud Activation Lock in just a few minutes.
It supports all iOS devices, even the latest iPhone 12 mini/12/12 Pro (Max).
The website provides excellent customer support, detailed tutorials to show you how to use it.
Cons:
You are required to complete a survey before you can download the tool.
This service is claimed to be free to download. But when you start to use it, you have to make a payment.
5. Open My iCloud
Open My iCloud is another highly reliable tool that you can use to bypass iCloud Activation Lock easily. It is one of the most widely accessible tools in the market for this purpose. It is also very fast and comes with numerous tutorials to help you use the tool whenever you get stuck.
Pros:
With this tool, you can unlock or bypass your iCloud lock in less than 10 minutes, one of the fastest in the business.
It works well on all iOS devices and all versions of iOS.
You can also use it to get the device's IMEI code to unlock the iPhone.
Cons:
You can only use it on Windows. There is no Mac version.
It has not been updated for a very long time and it's a bit difficult to download this software online.
6. iCloud Bypass Tool
You may be familiar with iCloud Bypass Tool since it is the most used iCloud Activation Lock bypass and removal tool in the market. The main reason for its increased popularity is its efficiency and ease of use, not to mention that it supports all iOS devices.
Pros:
It is a very functional tool that can do more than just iCloud Activation Lock removal.
It has numerous great reviews from previous users who all point to its efficiency.
It supports all iOS devices and iOS versions.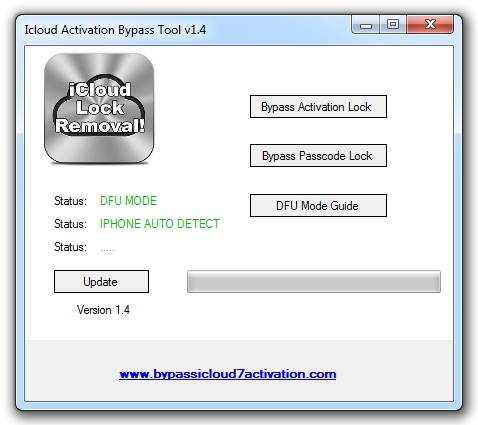 Cons:
Some people have complained that it has a low download speed.
The rating of this iCloud lock bypass tool is as low as 3.5 star.
7. Simple-to-Use iCloud Bypass Tool - GadgetWide
GadgetWide presents a simple to understand and user friendly iCloud activation tool. It is also very reliable ad works with almost all iOS devices.
Pros:
It is one of the most reliable tools in the market.
It is completely free to use.
It is highly efficient, allowing you to bypass iCloud Activation Lock in just a few minutes.
It comes with pre-configured settings to make the process even simpler.
Cons:
You have to download and install the tool on your computer to use it.
Although it claims to be compatible with all iOS devices, it doesn't work very well with older iPhone models.
8. Apple iPhone Unlock
This Apple iPhone Unlock site is the service rather than a tool to remove iCloud Activation Lock. It is also an effective service to unlock iCloud with quite high success rate.
Pros:
As a professional service, it can be used by everyone without any difficulty.
It has won great reputation from its purchased users.
Cons:
This service is not for free. You have to pay $19.95 to obtain the unlock service.
Conclusion
There you have it, the top 8 iCloud Activation Lock Removal tools for 2021. Choose a tool that will suit your needs in your current situation. Keep in mind that each one has its own strengths and weaknesses although we recommend choosing the tool that is the easiest to use. Hope this article can help you get rid of iCloud Activation Lock. If you know any other iCloud unlock tool, share us in the comments section below.
Related Articles: [3 Ways] How to Unlock a Disabled iPhone/iPad without iTunes 5 Ways to Unlock iPhone without Passcode 2021 [100% Work] 5 Easy Way to Remove iCloud Lock without Password for Free in 2021 Forgot iPhone Passcode Without Restore?3 Ways to Fix it Tenorshare 4uKey Review in 2021: The Good & Bad
Saturday on Sep 28, 2019, 19:35:10 GMT / Post By Joan J. Mims to

Unlock iPhone
Joan J. Mims is interested in researching all tips about iPhone, iPad and Android. He loves to share useful ideas with all users.
Home>Unlock iPhone>8 Best iCloud Activation Lock Removal Tools 2021 (Free & Paid)
Please enable JavaScript to view the comments powered by Disqus.
For the free remove iCloud activation lock, you need a software that can perform this work optimally, that is why we decided in this article, to provide you with information about several tools that you might not know. But because of their excellent service, they have earned a great reputation, which ranks them as the best methods for those who desperately seek how to remove icloud lock without password in 2021.
All tools are free, and you can download them using virtual windows private server or another dedicated server.
New updated software For Remove iCloud activation lock without password
We want to start with the best, and that's why we're happy to show you a video tutorial of one of the best remove activation lock without password. This tool has had several updates even has one which allows you iCloud activation removal lock jailbreak from any Windows, Mac and Linux computer (Ubuntu).
This is a completely updated method for remove iCloud activation lock without password on all iPhone and iPad models and on any iOS.
After watching the video you were able to check for yourself how easy and fast iCloud lock removal free is. To use the software at no cost, you will need to do so viadedicated server.
Bypass iCloud Activation Lock without password
We are aware that there are many free remove iCloud Activation Lock software, some already stopped working, and that is due to the various changes that the big Apple company has provided to its products, among those the iPhone which is your phone badge, and the famous tablets, better known as iPad.
Timothy Donald Cook CEO of Apple Inc has always stated in its press conferences that every update or adjustment made to our devices is with the sole intention of improving the user experience, and above all to protect your Confidentiality.
For this reason several of the methods for delete iCloud Account have been slightly folded.
Learn which software still works in 2021 and will still be in force by 2021.
How To Remove iCloud Activation Lock without password 2021 Using 3uTools
Following with 3uTools we bring you a different update to the first one. this tool is consolidated as one of the most used for free remove iCloud activation lock in 2021, that is why we have decided to put it as the first choice.
In addition to having no cost, it works on all versions of iOS 14, 13 and 12 up to the older version of this operating system. Only a Windows, Mac, or Linux computer is required to use it.
To use it you need a Hosts file which comes with downloading the tool. Connecting to virtual windows private server is essential to access the software.
iPad Activation Lock removal Free
If you want to see more evidence of how this program works, here's how it does its job, but this time we show you the iPad Activation Lock removal Free. Although the same steps are repeated as with the iPhone, we will make it very clear to you how you have to use this method correctly, to avoid problems.
New Tizan Full Version To Remove iCloud Lock Free
The second option for free remove iCloud activation lock is by making use of the Unlock File Server tool, its operation as well as all the methods that we will show you is done online.
The creation of this program is very recent, making its use more effective in the latest versions of iOS operating system.
To activate the software you need a key, but don't worry, because it comes with downloading the tool.
This program currently has many limitations, especially its use in newer iOS versions. If you have Apple devices running iOS 12 operating system this method can work perfectly for you.
In iOS 13 this software lacks technical resources to remove iCloud lock free, downloading this tool for free is done via virtual windows private server.
The Positive
It is a program that can be used from Windows Pc, Mac or Linux.

Works on most iDevices.

By simply connecting to dedicated servers you can download the tool at no cost.
The Negative
Works only on iOS 12 and earlier

it's a somewhat outdated method
Iphone 4s Icloud Lock Removal
iCloud Activation Lock Removal Free online with Unlocking iCloud
Server
Unlocking iCloud Server is a program very similar to the previous ones, not only in its operation, it is also in its graphical interface design.
The best thing about this software is that you don't need a lot of technology knowledge to be able to operate it. When you tell the truth, you won't have to press any buttons or anything that looks like it. By simply opening the tool and connecting the iDevice you will get unlock iCloud Activation Lock.
The download of the program is done through windows virtual private server.
Delete iCloud Account With iMyfone LockWiper Activation Lock
After testing iMyFone LockWiper activation lock, we were able to verify that the procedure to skip the lock screen is extremely simple. Although we already warn that if we delete the lock screen, all information on the device will be erased.
How to use iMyFone LockWiper iCloud Unlock
To use iMyFone LockWiper iCloud Unlock 2021, you must first download the software, later you will find information about how the download procedure is.
But the steps you need to take for iCloud Removal are as follows:
As soon as you enter the application, it asks us to connect the device to our Mac or PC, since this program is compatible with both Windows and macOS. After connecting it, it will give us some basic instructions to introduce our device in DFU mode, as you can see in the following image.
Once you have started DFU mode, you will direct us to a new window where you will have to enter the information of your device, although it will usually detect it automatically, as well as the version of the operating system that you want to install on your iPhone or iPad after removing the lock. It should be mentioned that we will only be able to select versions signed by Apple, since it is done from the official servers of the company.
Once we have entered the data of our device and the version of the software that we want to install, we will give «Download» to start the firmware download. The download time will vary depending on your internet connection, but it usually doesn't take more than 15 minutes to download.
Once the download is complete, iOS will be installed on our terminal and the iPhone lock code will be removed, a process that doesn't take too long. After a few minutes of waiting we will have our iPhone perfectly operational although factory restored.
To finish this review, remember that all the data on your device will be erased after deleting the lock password from your iPhone or iPad, and in addition iOS will be updated to the latest available version, something important in case you want to jailbreak for example.
Download full iMyfone LockWiper iCloud removal to Remove iCloud Activation Lock Without Password Free
To download Full imyfone lockwiper iphone unlocker, and be able to get Remove iCloud activation lock without password free, you have several options.
iMyFone activation lock is a paid service, but we'll give you the option to use it completely for free.
Download
iM
yFone
lockwiper iCloud Lock from the official website
The first is to go to the official website, and buy the tool, the same platform gives you a free version, but it only serves to check if your iDevice is compatible with imyfone lockwiper icloud lock. In a nutshell if you go to the website and want to purchase the product you will have to spend money.
The product costs about $39.99
Downloading Lockwiper Mega+Crack
There are ways to download the software through Mega or another download manager, but you must notice that it has crack.
You can do this for free by connecting to any virtual windows private server or dedicated server.
Iphone 4s Icloud Removal Tool
Remove iCloud Activation Lock Without Password iPad
If you are looking for a method specialized in How to Remove iCloud Activation Lock Without Password iPad, we also have it for you. Look closely at this tutorial and you'll see how easy to remove iCloud activation lock iPad mini, iPad 2 or any other model.
How to Remove iCloud from iPad without password
Iphone 4s Icloud Removal Tool
Remove activation lock iPad without password using this software is the best decision you can choose, unlike the other methods with this you will have to write the Serial and select the country where it was registered. This tool can also be used on iPhone and iPod Touch.